Regular price
$19.99
Sale price
$3.49
Unit price
per
Sale
Sold out
Basic Shipping Plan

- US: 7-14 Days
- CA/AU/NZ/IL/JP/BR: 8 - 16 Days
- European Countries: 9 - 18 Days
- Rest of The World: 12 - 30 Days
- For more detail, please read our Shipping Policy.

On average it will take 1-2 business days to process your order before we ship it out. There may be some delay during the holidays and weekends.
Fast Shipping & Delivery

Different logistics plans are adopted according to different countries. In general, transportation time can be reduced by 3-10 days. We will provide the best service for you. Saving your time.
Guarantee

If you have not received the package for more than 30 days (some countries may require 45 days) for some reasons which not caused by you, we will give you a 100% refund.
Share
View full details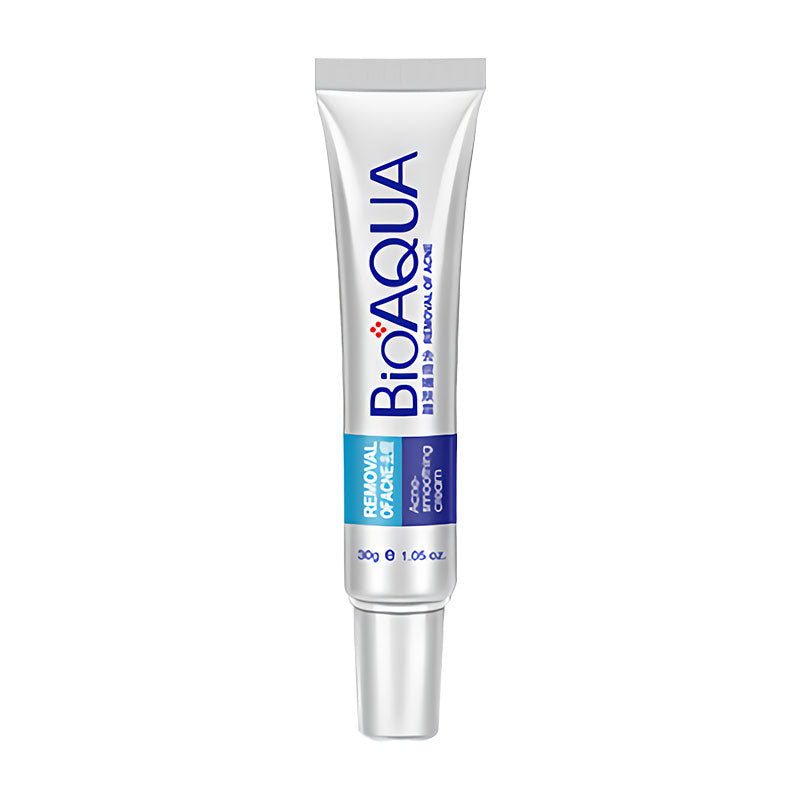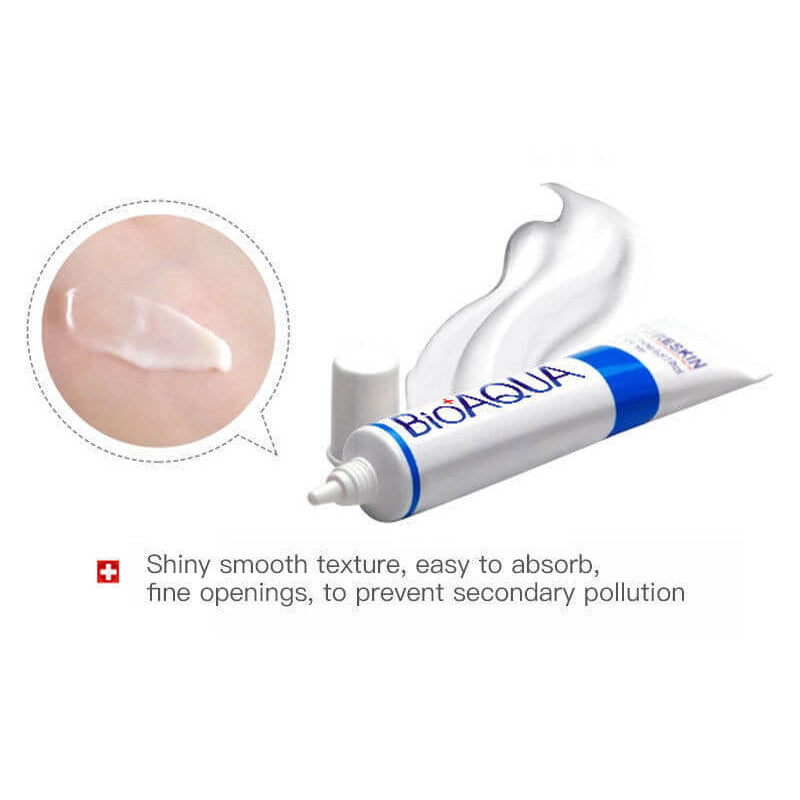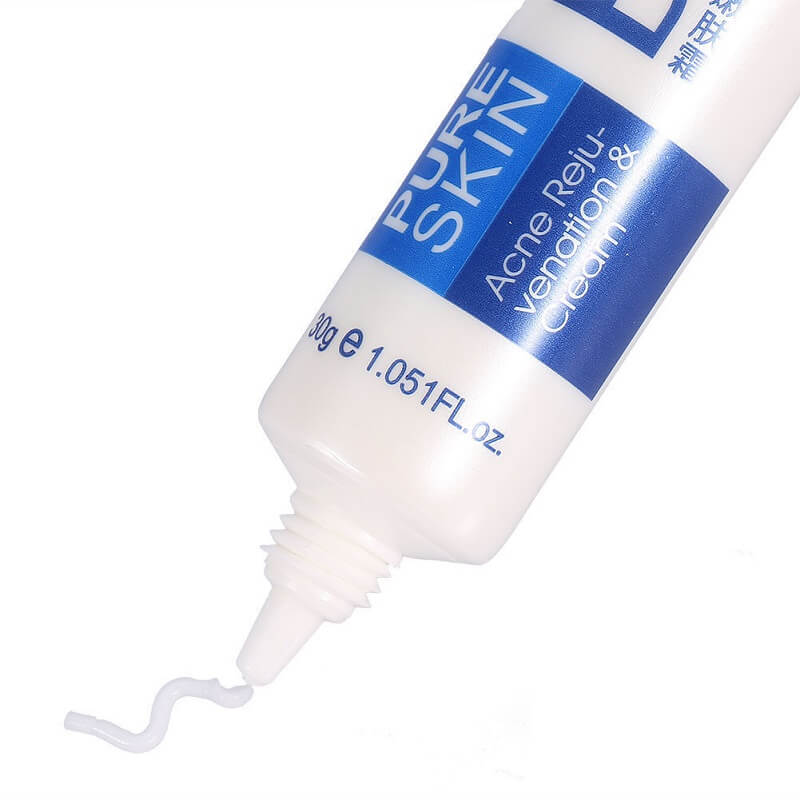 BIOAQUA PURE SKIN Acne Scar Removal Rejuvenation Cream is a product of natural plants. The cream isn't harmful to the body and anyone can use it without fear.
It is Formulated with Collagen, Alpha Arbutin, Cucumber Seed Extract, Olive Oil, Jojoba Oil, and Vitamin E that effectively treat Acne, Pimples, Scars, dark spots, burns, and striae of pregnancy scars caused by cuts, stretch marks, and pockmarks. It induces the formation of good skin tissue, as well as prevents scarring around the occurrence of inflammatory swelling (hardening), and also provides wound scars a softening and smoothing effect. It also helps to shorten the crusting time, providing good conjunctival bottom skin, a convenient shift value and it can promote quick wound healing thereby preventing scar formation.
Advantages:
Clear up blemishes without irritating skin.
Help visibly reduce the redness and size of pimples.
Help visibly reduce the number of blackheads.
Help clear up pimples fast while helping prevent new ones from forming.
Lighten and fade the look of lingering acne spots.
Absorb quickly without feeling sticky.
Effective regulation, balanced facial oil secretion.
Shrink pores, improve skin elasticity.
To keep the face clean and fresh.
Rid of acne, acne marks, and repairing damage to the skin.
Get rid of acne scars stretch marks blemishes feel happy and proud of your skin.
Item Specifics

Item Type: Cream
Use: Face
Gender: Unisex
Ingredients: Water, Glycerin, Isopropyl Palmitate, Mineral Oil, Glyceryl Stearate, Cetearyl Alcohol, Dimethicone, Olive Fruit Oil, PEG 100 Stearate, Sunflower Seed Oil, Phenoxyethanol, PEG 40, Castor Oil, Sodium Cetearyl Sulfate, Jojoba Seed Oil, Alpha Arbutin, Menthol, Disodium EDTA, Xanthan Gum, Soluble Collagen, Sodium Hydroxide, Hibiscus Flower Extract, Morus Alba Bark Extract, Vitamin E, Cucumber Seed Extract, Aloe Barbadensis Leaf Juice Extract, Maltodextrin, Sodium Benzoate, Potassium Sorbate, Chlorphenesin, Sodium Citrate, Citric Acid.
NET WT: 30g
Benefits: moisturizing whitening acne treatment pigmentation corrector
SKU: BQY0719

How To Use

1. Can be used at any time of the day. It is recommended to apply 2 or 3 times a day. 
2. After cleansing, take appropriate acne cream for acne and acne parts evenly.
3. Gently massage to help absorb.
Testimonial Videos
BIOAQUA PURE SKIN - Removal of Acne/ Acne Scars/ Shrink Pores/ Oil Control/ Acne Rejuvenation & Moisturizing Cream
Acne Scar Removal Rejuvenation Cream
This cream has always worked wonderfully for me, it lasts a long time since you only have to use a little product to get the desired effect. Absolutely love it.
(BQY0719) Acne Scar Removal Rejuvenation Cream
Best Anti-Acne cream I've ever tried!!
It doesn't dry the skin, reduces the redness and removes my blemishes!! I highly recommend it!
(BQY0719) Acne Scar Removal Rejuvenation Cream
(BQY0719) Acne Scar Removal Rejuvenation Cream
Acne Scar Removal Rejuvenation Cream
Amazing products, works well. recommend to everyone as this products is working